Alpine Adventures Reveals Comprehensive New Website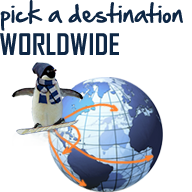 Just as their travel adventures are expanding, Alpine Adventures, a global adventure travel company, reboots their online presence with a website offering more information and more opportunities to get to know the travel-happy trip consultants who help plan vacations.
Fort Lauderdale, FL, February 6, 2014—Alpine Adventures has had just as much fun revamping their website as they have when they plan travel for their clients, and now the new look and new functionality is up and ready for interaction.
"
Now when you pull up

www.AlpineAdventures.Net

,
" says company owner Rick Reichsfeld, "
you can learn more about our destinations, our luxury ski vacations, and our escorted trips before you choose which adventure is next for you

.
" Although the former company website had all the requisite components, it wasn't until last spring that the time seemed right to restructure that handy reference tool into a fun, interactive resource. "
We've always taken such pride in our relationships with our travel industry partners and our repeat leisure clients that we didn't want to rely on the website for too much. It was feedback from these same people, however, that showed us it was time to make everything we know available online 24/7,
" stated Reichsfeld.
With design and implementation from the talented Tanya Odovic and launch support from
Blizzard Internet Marketing
, the new Alpine Adventures website was revealed and has been embraced by the Alpine Adventures community. Now it's easier than ever to search Alpine's favored destinations for ski trips in North America or Europe during traditional winter, or in snow-blessed resorts in South America in late July through September.
Those same people who love to ski together also love to travel for other adventures together. Alpine Adventures/Anywhere Adventures features breathtaking whitewater rafting trips in Costa Rica, cultural trips that create lasting friendships to Thailand, and unforgettable journeys to South Africa for wildlife safaris.
Already widely respected for their escorted group ski trips to Europe, this year Alpine Adventures will offer two trips to Italy (Cortina D'Ampezzo, February 15-23 and Madonna di Campiglio, March 14-22), and two early winter trips, one to Austria (Shladming and Vienna, February 7-15) and one to Switzerland (Zermatt, February 7-15). And again this year, Anywhere Adventures will take a group to Ireland for St. Patrick's Day, traveling to Dublin, Belfast, Derry and the Cliffs of Moher (March 11-18.) Group trips to Lesotho (Africa) are ongoing, June through August of this year.
Alpine Adventures is a family-owned tour operation led by the brother/sister team of Rick Reichsfeld and Richelle Blanken. There is a small but dedicated staff of trip consultants who themselves love to travel and who have all experienced the destinations offered by Alpine. The trips can range from the most basic components of lodging and transportation (including air or not), to luxury ski vacations that include private homes, drivers, chefs, activities, and reservations to events and haute cuisine. "
What we've learned over the years
" said Rick Reichsfeld, "
is that each client has his own definition of luxury. It's our job and it's our pleasure to put together that trip for that time in the lives of the travelers. Each journey should be memorable in its own way, and it's our love of travel that keeps us looking for new places and new adventures.
"
Alpine Adventures/Anywhere Adventures is a leading North American tour operator providing customized winter and summer vacations in the United States, Canada, Europe, South America, Costa Rica, Thailand, Ireland and Africa for both individual and group travelers. Alpine Adventures offers an exclusive portfolio of lodging properties worldwide from moderate to high luxury, on five continents and in both hemispheres. Plan a trip with an Alpine Adventures Vacation Specialist at 1-800-755-1330, or put together a trip
online
.
Alpine Adventures is a
Virtuoso®
member supplier. Virtuoso is the industry's leading luxury travel network. This by-invitation-only organization comprises over 330 agencies with more than 7,200 elite travel advisors in 20 countries in North and South America, the Caribbean, Australia and New Zealand.