Ski Summer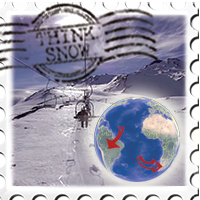 Great deals & special prices for Summer Ski Packages
Don't miss out on the Southern Hemisphere summer ski adventure 2014!
Summer can be fun for die-hard skiers and snowboarders! There's always some place on Earth where snow is falling! Grab your ski gear and follow us to some of the best ski resorts on the Southern Hemisphere! Discover the spirit of the Andes and the Maluti mountains.
Call our ski travel experts and start planning your summer adventure.
Our toll-free number is:
1.800.755.1330
South America
 
South America
 

$5,100 per person (group size: 2-4 people)




10-day journey




Full days of skiing at Valle Nevado, Portillo & Ski Arpa

 

$4,300 per person (group size 2-4: people)




6 Days / 5 Nights


Heli Ski, Cat Ski and Chile's Top Resorts

 
South America
 
Africa
 

from $4,000 per person




full board, entrance fees, ski passes




5 resorts – Chile, 4 resorts – Argentina

 

from $2,100 per person




7 days SKI & SAFARI


Travel dates: June – August, 2014

 
______________________________________
 
______________________________________
South America
 
South America
 

$3,335 per person




Unlimited access to ski lifts, Wine Tasting Week




Travel date: August 2-9, 2014

 

$3,380 per person


Hotel Valle Nevado
Travel dates: September 5-12, 2014

 
______________________________________
 
______________________________________
South America
 
South America
 

from $1,900 per person




Unlimited access to ski lifts




Travel date: August 16-23, 2014

 

from $2,500 per person


4 nights at Llao Llao Resort
3 nights at luxurious Alvear Palace
 
______________________________________
 
______________________________________