Overview:
Duration: 7 days / 6 nights
Departure date: September 1-7, 2021
Meeting point: Best Western Irazu Hotel, San Jose
Tour group size: 20 people
Price:
$999 per person, double occupancy (Standard room in Arenal Springs Resort and Spa)
Single supplement: $467 (excluded at Rios Tropicales Lodge, single occupancy is not available)
Pricing based on 20 full paying participants for the main trip.
**Rooms with bunk beds and shared bathroom for 2 nights at Rios Tropicales Lodge Private Deluxe Rooms at Rios Tropicales on request.
Your trip package includes:
Scheduled round trip airport shuttle service from 4:30AM until 10:30PM (every hour)
1-night lodging in Standard Room at Best Western Irazu Hotel & Casino, San Jose
Full Buffet Breakfast at Club Lounge
Welcome drink per stay and per person (includes alcoholic and non-alcoholic beverages)
One-way coach transfer Best Western Irazu Hotel & Casino – Rios Tropicales Operations Center
2 days white water rafting on Pacuare River including transportation, lodging (hostel-style rooms with bunk beds and shared bathroom), meals for 2 days except for the dinner on the last day, hikes, river equipment, and professional guides.
One way coach transfer El Cairo to Arenal Springs Resort and Spa (La Fortuna-Lake Arenal)
4 nights lodging at Arenal Springs Resort and Spa (Breakfast and taxes are included)
One way coach transfer Los Lagos (La Fortuna) – San Jose AP or Hotel in San Jose
Not included in the package and can be booked at additional cost:
Airline ticket from your gateway to San Jose Juan Santamaria Airport.
Please contact Alpine Adventures for the airfare details. If booking on your own, please book flights with arrival in San Jose after 12PM (check in time 2PM) and departure from San Jose after 11:30AM for your return flight.
Deposit and Payment Policy:
Alpine Adventures will collect all deposits, fees and final payments per the schedule below:

Initial Deposit: $300 due to confirm program
Final Payment: 65 days prior to departure
Prices apply with a minimum of 10 participants per option. If there are less than 10 people signed up for this trip, the total price will be adjusted accordingly and there is a possibility of trip cancellation.

Travel Cancellation and Refunds:
Original Cancellation policy:
Cancellation outside 65 days = $100 cancelation fee
Cancellation inside 65 days: nonrefundable
COVID-19 policy:
In case of another trip cancellation due to COVID-19, the trip package is fully non refundable as per terms and conditions of the contract for original travel dates but Alpine Adventures will certainly look into rescheduling the trip to future travel dates along with all service providers included in this program.
Please review full terms and conditions on our website:
PLEASE CLICK HERE FOR TERMS AND CONDITIONS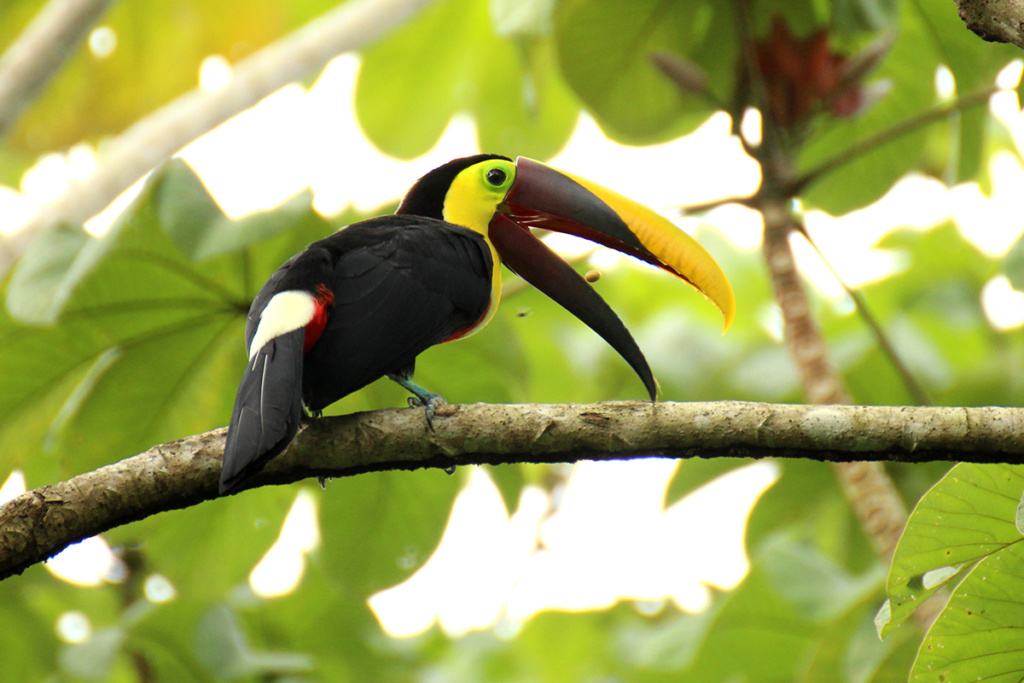 Introduction
Costa Rica offers some of the world's finest whitewater rafting and kayaking rivers.
Wild and untamed, these big, brash rivers plunge through the spectacularly beautiful, largely unexplored tropical wilderness. Enjoy a tropical river with a skilled and reputable guide service, organized in 1985 to share the beauty and abundant whitewater of Costa Rica with the rest of the world.
The owners and guides have explored numerous rivers and participated in the Olympic Games as well as several rafting and kayaking World Championships. A commitment to high quality, safety, and exceptional service has helped them become the largest whitewater rafting and sea-kayaking outfitter in Latin America. Our outfitter has been recognized internationally for its efforts in conservation, reforestation, and education of the local population.
The Pacuare River is rated one of the top rivers in the world for a host of reasons. You'll get to explore the intimate nature of the rainforest from the river perspective. The warm water, cascading waterfalls, and opulently lush rainforest with its brilliantly colored plants, animals, and birds make this trip exquisite for your senses. Add in the exciting Class III and IV whitewater rapids and you have a tropical adventure packed with rich experiences that last long after you've returned home.
Lake Arenal, lying adjacent to the Arenal Volcano in the Northern Lowlands of Costa Rica, is the country's most spectacular lake. With the magnificent Arenal Volcano to the east and rolling hills and forested slopes all around, the scenery couldn't be better. Add to that a number of activities that include world-class windsurfing and sailboarding, fishing, kayaking, bird watching, and more, and you have the makings for a spectacular destination.
Requirements
Prepared to learn to paddle a raft.

Ready to get out of rafts (if necessary) for short walks.

Willing to share a room/tent and bathroom in rustic settings.

Able to swim in river conditions.
Activities in Lake Arenal area
Accommodations and meals
While in San Jose a comfortable, clean, and centrally located hotel is utilized. Each of the rooms has a private bathroom, telephone, and satellite television. There is a restaurant, bar, pool, and Internet access available. On the rafting expedition, you will spend the night camping in the hostel-style rooms with bunk beds and shared bathroom bungalows. While staying in the bungalows you will share bathrooms and showering rooms with the other guests. This place provides a relaxing and authentic slumber environment. While staying in La Fortuna Arenal, Lomas del Volcan Lodge itself is set within a tropical garden, watching over the fiery activity of the Arenal volcano and close to the thrills of a canopy adventure and the calm relaxation of some of the most beautiful hot springs in the world. Each room is tastefully decorated to make your stay comfortable and enjoyable.
Meals are casual and there is plenty of food to go around. Highlights of the meals are fresh fruits and vegetables from local farms. Bottled water is available with every meal and at stops along the way. Special dietary needs can be accommodated only with advance notice.