china cruise
Beijing, Xian, Yangtze and Shanghai
Sail aboard the President No.8 cruise ship on the mighty Yangtze River from Yichang to Chongqing for 3 days of sightseeing and relaxation. Your luxurious cruise experience includes balcony cabin accommodation, meals and informative guides who explain top attractions along the river.
President No.8
Ship Overview
President No.8 took her maiden voyage on April 26th, 2013. President No.8 sets up a new standard of the deluxe Yangtze ship of President Fleet.
It is the largest cruise ships on the Yangtze, with 146.8 meter in length and 20.2 meter in width. Onboard the ship, there are 215 luxury standard rooms, 13 luxury executive rooms on the top deck, and 2 presidential suites on the fore side of 3rd deck, totaling 230 rooms for 460 guests. Specially designed for customers who travel with family, President No. 8 offers 100 luxury standard cabins which can be upgraded into triple rooms for family with kids. So the total capacity of the ship can be about 580 guests. There are 7 decks.

Cabin Amenities
Privateb Balcony, private Bathroom, telephone, TV, shower, bathtub, mini bar, mineral water, hair dryer, bath toiletries, slippers, bathrobe, kettle/coffee maker, safe box, desk.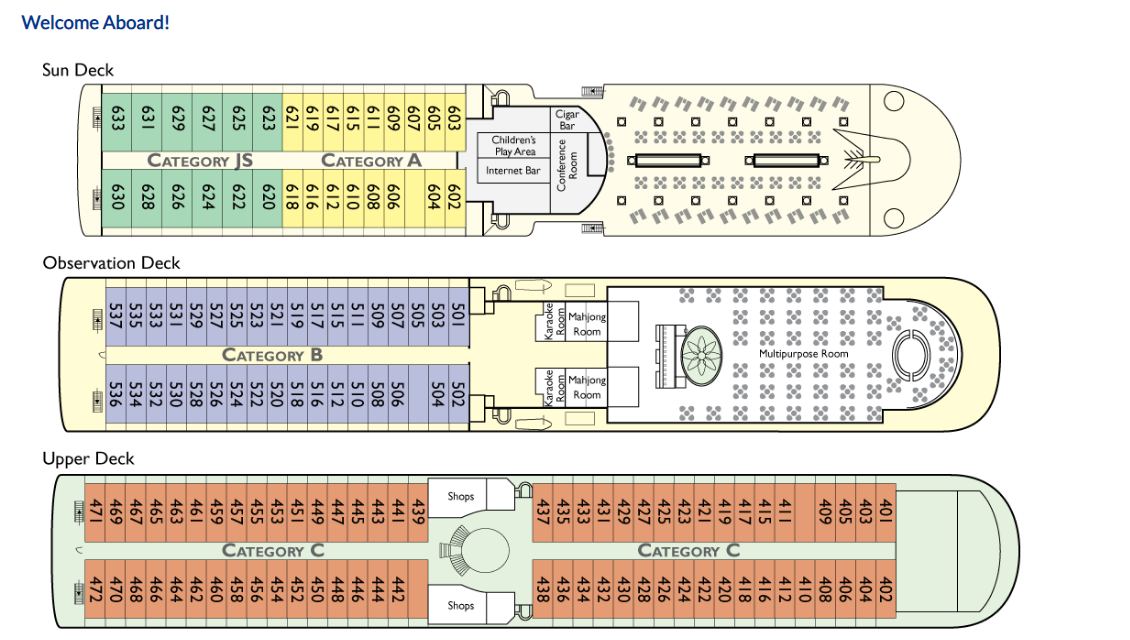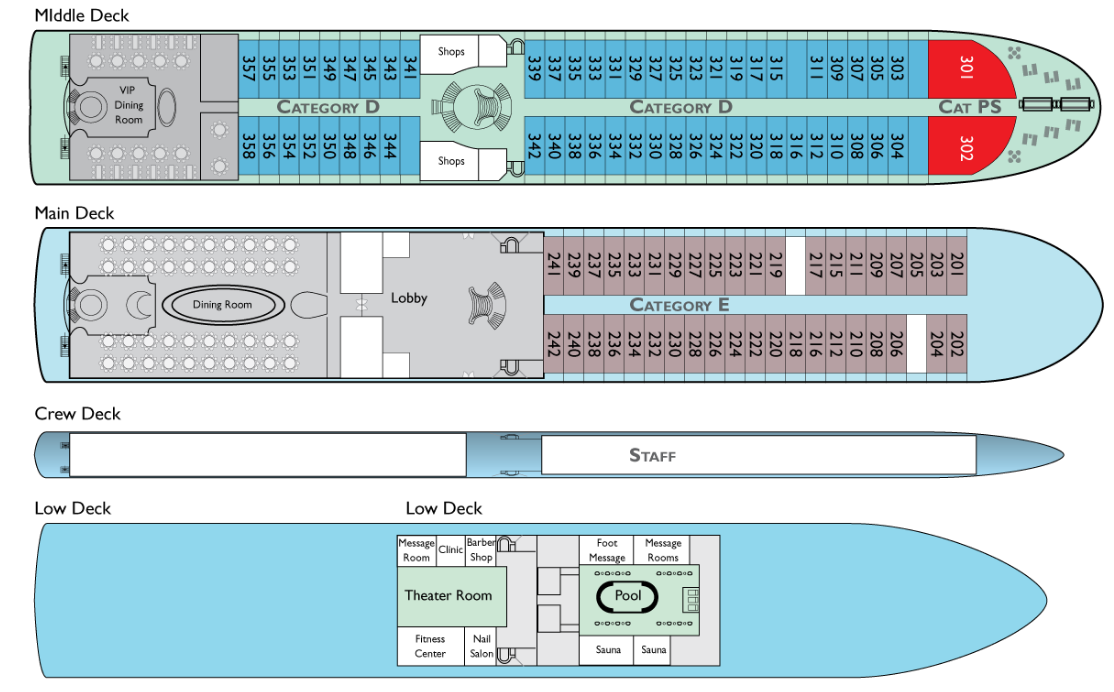 Dates:
Price:
Land only from $2,690

Land + Air from $3,899

Single Supplement: $865 (both land and cruise)
Your package includes:
Private air-conditioned coach in each city
Licensed English-speaking local guide in each city
Admissions to the sightseeing places IN ITINERARY
Yangtze River Cruise (double occupancy)
6-night hotel accommodation (standard room, double occupancy) with Chinese & Western buffet breakfast
Domestic airfares for Beijing/Xian, Xian/Chongqing (economy class), train of Yichang/Shanghai (2nd class)
Lunches with 2 glass of soft drinks; welcome dinner with 2 glasses of soft drinks or half a bottle of wine
Shopping stop as 2 in Beijing, Jade Factory and Pearl; 1 in Xian, Terra-Cotta Demonstration Workshop; 2 in Shanghai, Silk factory and tea house
TOUR MANAGER
Yangtze River Cruise
Day 1 Yangtze River Cruise
In the late afternoon, you'll be transferred to Chongqing Chaotianmen Port to board your ship during 18:00-21:00 boarding time frame. Your 3-day relaxing downstream Yangtze River cruise will sail at 21:00!
Day 2 Yangtze River Cruise
This morning, wake up leisurely and enjoy the gentle sunshine shining over the tranquil Yangtze River. You can either follow the Taichi master to play Taichi on the sundeck or enjoy a cup of coffee to stretch your mood to start your beautiful day. It will be colorful and interesting no matter if you stay onboard or go shore excursions at river stops.
Onboard you will enjoy different kinds of cultural activities and entertainment, like attending a Yangtze River History and Culture Lecture to know deeply about the third longest river in the world, taking part in the Captain's Welcome Party to make new friends, or having great fun at the wonderful evening shows with sing, dance and music.
Follow a local English-speaking tour guide on a shore excursion to Shibaozhai Pagoda, a pearl of Yangtze River in Zhongxian County. Reputed as one of the eight extraordinary architectures in the world, this 12-story, 16th century red wooden pagoda leans against the side of the rocky and craggy hill about 200 meters tall. Climbing up to the top of Shibaozhai, you can not only visit the Buddhist temples and halls but also have panoramic view of Yangtze River. (Please note: Comfortable shoes are highly recommended since there will be many stairs to climb up the pagoda.)
Optional shore excursion to Fengdu Ghost City. Called "the Homeland of Divine Comedy in China", it consists of buildings, structures, dioramas and statues related to the afterlife in hell. Entering this "City of Ghosts", you will know many mysterious stories about underworld and cruel tortures and different kinds of devils and Chinese demons. (Please note: the visit to Fengdu Ghost City requires much walking and comfortable shoes highly recommended!)
Day 3 Yangtze River Cruise
Today you will sail through the spectacular Three Gorges! Follow the guide's live interpretation and soak up the breathtaking gorge scenery passing by as you drift through Qutang Gorge, Wu Gorge and Xiling Gorge respectively.
On this day, take an enjoyable shore excursion to Shennv Stream (Goddess Stream), a tributary of the Yangtze River in Wushan County. You will be switched to a smaller boat to sail down this primitive stream running in a narrow side gorge where you will have close-up views of steep mountains and hanging coffins high on the cliffs as well as hear some of the local history. Besides, you will be entertained with local music and dance offered by the Tujia ethnic group.
This evening, enjoy the well-prepared Captain's Farewell Party with all your mates onboard and have a pleasant dinner together.
Optional shore excursion to White Emperor City. Located at the entrance of Qutang Gorge, this excursion gives you the chance to know Romance of the Three Kingdoms and offers the best pot to appreciate the magnificent "Kui Gate".
Day 4 Yangtze River Cruise
After breakfast, you'll go through a check-out procedure and disembark at Maoping Port. Then, take a morning shore excursion to visit the world-famous project – Three Gorges Dam. The dam is the largest hydropower station in the world with an annual energy output of 84.7 billion kilowatt-hours. The Three Gorges Dam includes three areas: the dam itself, a hydroelectric, and a system of locks. The height of the Three Gorges Dam is 185 meters (607 ft) above the sea level. The dam is about 2,300 meters (7,546 ft) long and about 115 meters (377 ft) wide. With a water capacity of 39.3 billion cubic meters, the dam will hold a huge reservoir which will efficiently prevent flooding in the middle and lower portions of the Yangtze River.
Optional experience: you can choose to sail through the world's largest ship lift – Three Gorges Dam Ship Lift to very closely marvel at the huge dam which is a totally fresh and exciting experience for travelers.
After the dam visiting, you'll take the tourist bus arranged by the cruise company transferring you to Yichang Three Gorges Center Cruise Terminal around 12:30~13:30. Here you'll be picked up and escorted to Yichang Airport / train station for your flight or train to next destination.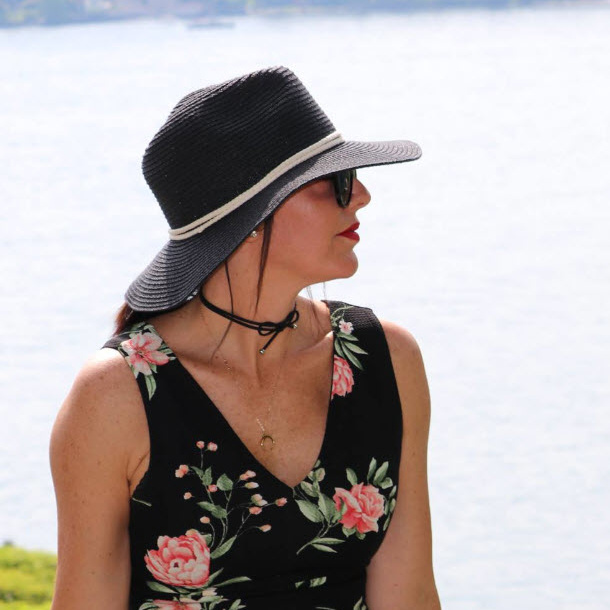 Join Tessie and a group of fun loving travelers
1-800-755-1330 Ext 202
CALL NOW!