switzerland group trips
Feedback from the trip leader
Swiss-Italy Trip 2021
Our trip began on September 5th as planned (or as replanned several times). It was the first Adventure trip undertaken in over two years. All members had to be vaccinated and complete additional forms for entry into Switzerland and Italy. But as daunting as it may have seemed at the time given the current pandemic, the trip was one of the more enjoyable trips the club has undertaken during my tenure as Trip Director.
Our journey began with two nights at the Birkenstock Palace hotel. A recent $500 million renovation made this 5-star resort located high over Lake Lucerne something to behold. It was a superb kickoff to the trip. I describe this trip as experiences in two different realms—from the snows of the Jung Frau summit and the Matterhorn in Switzerland to the lakes and boating on Lake Como, Italy. We rode Scenic trains, Cogwheel trains and Vernaculars. We hiked across a glacier at 11,000 feet at the Jung Frau, toured the ice cave, and dined at a mountain-side restaurant with stunning views of the Alps. Then we hiked down to Zermatt. We also e-biked along lake Interlaken with exciting view of the Alps in the background.
At Lake Como we toured by boat with views of centuries-old homes and palaces enjoying the warmth of Lake Como, some looking for George Clooney's home. We stopped for lunch at Bellagio, one of the most famous towns on the Lake. The extremes in temperature from the 20's and 30's in Switzerland to 80 degrees at lake Como were certainly challenging for packing. But I don't think any of us complained.
We did have one unplanned change to our plans. Italy decided, during our trip, we needed a negative COVID test prior to entry. Our travel Agent Pete Kovacevic simply rearranged our testing a day earlier in Zermatt rather than Lake Como as originally planned, which satisfied both the US and Italian requirements. Thanks Pete.
Our return to the states from Milan was uneventful except I think most of us slept on the plane, or certainly on the bus back to Roanoke. I certainly would like to thank all our members on this trip. Your patience as we worked through the details of the planning certainly made it easier on me and Shireen.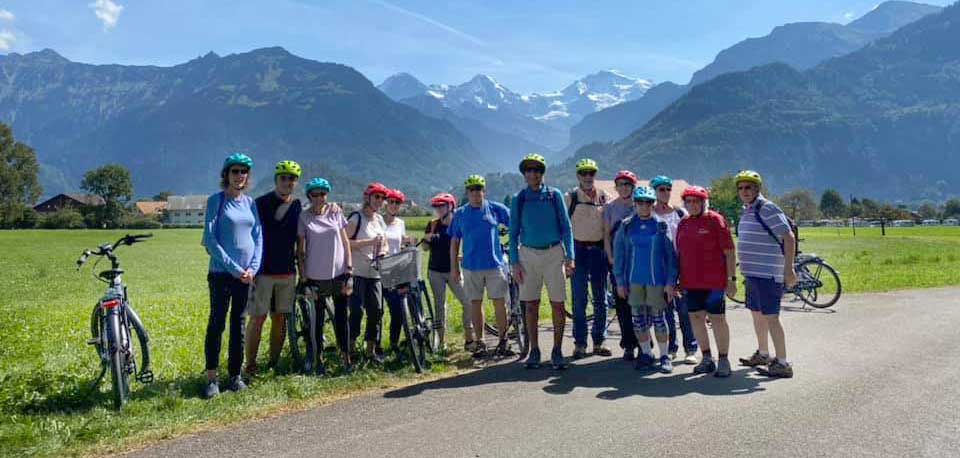 Day 1 – Burgenstock Resort ~ Welcome Dinner in Glasi Restaurant in Hergiswil
DAY 2-3: Walking tour of Lucerne ~ Mt. Rigi, Queen of the Mountains ~ Sightseeing Train ride on Interlaken Express ~ E-biking tour of Interlaken and Unterseen ~ Picnic by the lake Thun ~ Chocolate Tasting ~ Wengen
DAY 4: Wengen ~ Little Scheidegg ~ Jungfraujoch ~ Alpine Sensation ~ Ice Palace ~ Aletsch Glacier ~ Monchsjoch Hat ~ Wengen
DAY 5-6: Walking Tour of Zermatt ~ Matterhorn Museum ~ Gornergrat Gourmet Tour ~ Zooom the Matterhorn ~ Monte Rosa Glacier ~ Matterhorn ~ Lunch at the restaurant Dave-Tanja Alphitta ~ Hike through the forest
DAY 7-8: Zermatt ~ Stresa ~ Isola dei Pescatori (Fishermen's island) ~ Isola Bella ~ Palazzo Borromeo ~ Como ~ Cernobbio ~ Laglio ~ Villa Oleandra/George Cloney ~ Nesso ~ Isola Comacina Lenno ~ Villa Balbianello/James Bond 007/Star Wars ~ Tremezzo ~ Bellagio ~ Varenna