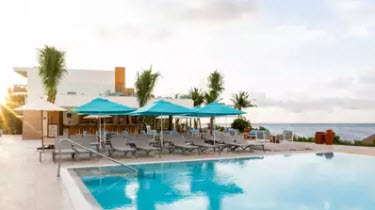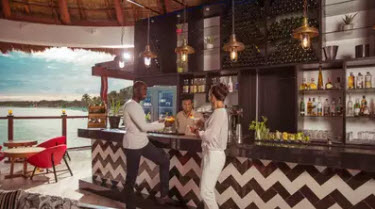 When it is time for our annual group trip to Club Med, the anticipation and excitement are the same! We simply know our clients will have a great time! GUARANTEED
In fact, most of them are returning G.M (Gentils Membres) year after year!
This year we chose Club Med Cancun for our 4-night getaway. We used to make it a 3-night getaway but people complained that it was too short.
This recently renovated property (and still getting a "facelift" at the main buffet restaurant and boutique) is beautifully located at the tip of Cancun peninsular and is known for its coral reef. It is secluded from the hustle and bustle of the main strip and therefore extremely safe but also quieter.
On the first day and after a perfectly coordinated and personalized check-in we wasted no time enjoying the brand new infinity pool at the Aquamarina building. Gorgeous! Although this area is more dedicated to families everyone can certainly enjoy the view and the bar from this new pool.
We then met by the main bar for our one-hour private cocktail party arranged by Club Med Groups before enjoying our first dinner at the Taco Arte Buffet. Then we all headed to the show as this is an important part of your stay at Club Med and G.O's (Gentils Organisateurs) talents never stop to impress me. Next day was jammed packed of water sports activities (snorkeling, kayaking, sailing) but also our group met up for a great initiation to archery. Fair to say we all enjoyed it!
And for the less active clients, "farniente" on the beach was the day's theme! We were up for a treat when dinner came as our group had pre-arranged reservations at the Argentinean steakhouse of the resort "La Estancia". Gorgeous setting and great food including for clients who prefer a vegetarian option.
Saturday part of our group headed to the beautiful Mayan ruins in Tulum for a private visit that included some free time to pick up a few local souvenirs.
While the rest of the group continued enjoying the village and its numerous activities. We all met for an introduction to salsa and got our groove on!
Sundowners were served at Taco Arte followed by our buffet dinner.
Sunday was another busy day: after burning off some calories at the gym we all participated in a fun ping pong tournament. Although a tropical storm was going through our area it didn't stop our group from having some fun under the rain and enjoying our farewell dinner at La Estancia.
Soon enough it was time to say goodbye but not before reminiscing about our fun these 4 days had been and starting planning for our next year's getaway! Club Med Turks & Caicos it will be and we hope to see all of you there.