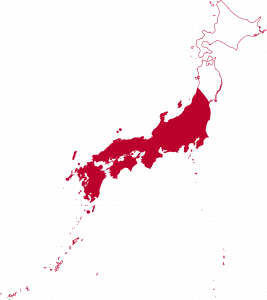 Japan is a markedly different experience than just about anywhere else in the world
Japan is full of wonderful cuisine, culture and traditions; combined with modern Japan which features idols, computer games, robots and anime this makes for a unique experience. From sushi, tea ceremonies, onsens and famous ice sculpting festivals through to karaoke, and sake you are sure to leave Japan with new experiences.
The Japan snow is world renowned and most of the Japan ski resorts get dumped with an average of 10 to 18 metres of snow per season! If you are a bit of a powder hound or wanna-be powderhound, skiing in Japan should absolutely be up there on your bucket list.
If you are a powder junkie, a multi-resort hosted and guided ski safari could be the best way for you to get your powder fix. Once you have done one of these tours you will find it hard to ever go back to staying at one resort!
Various tours are designed to cater to different abilities of skiers and snowboarders.
Hakuba
Set high in the spectacular Japan Alps lays the alpine village of Hakuba. With peaks towering over 9850 ft, breathtaking scenery and long winters with abundant snowfalls…
Nozawa Onsen
With skiing first being introduced in 1912, history has shaped the present in this timeless mountain village. Well known as one of Japan's premier classic resort destinations, this impressive area has cultivated its warm après-ski charm throughout its long history of winter sports.
Shiga Kogen
21 interlinked resorts all on one lift ticket! Shiga covers a huge area and offers a great diversity of natural terrain. Shiga Kogen hosted a variety of events in the 1998 Winter Olympics including the women's downhill, slalom, the super Giant slalom and both snowboarding events.
Niseko
Spectacular skiing and snowboarding opportunities to the novice, intermediate or expert. Niseko, located on the western coast of the island of Hokkaido, is widely known as having one of the most consistent and biggest snowfalls in Japan and boasts some of the best powder conditions to be found anywhere.
Tokyo
Tokyo is Japan's capital and the world's most populous metropolis. It is also one of Japan's 47 prefectures, consisting of 23 central city wards and multiple cities, towns and villages west of the city center. This huge, wealthy and fascinating metropolis brings high-tech visions of the future side by side with glimpses of old Japan, and has something for everyone.