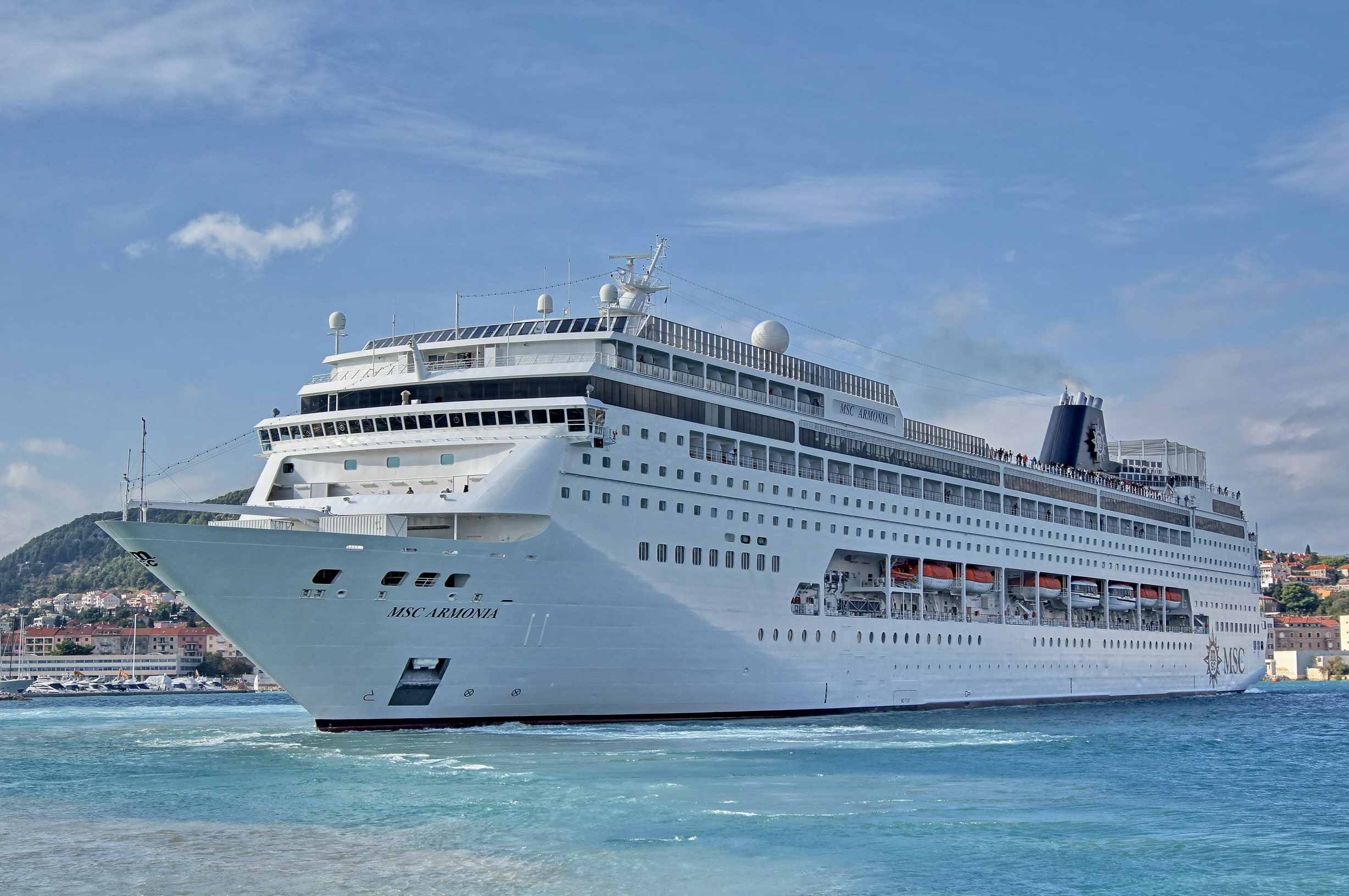 MSC Armonia is a ship beyond simple definition with its classic ambiance, luxurious comforts, and modern resort accommodations.
As one of the more intimate liners in our fleet, MSC Armonia takes travelers on an authentic journey where larger ships only dream to access.
On board, the amenities are just as breathtaking as the ports visited. There's an elegant bathing complex with twin outdoor pools, whirlpool baths and a state-of-the-art gym. There is also shuffleboard and miniature golf. Pampering comes easy at the exotic MSC Aurea Spa. There, you can experience the finest modern beauty treatments and blissful Balinese massages found nowhere else at sea. There's never a lack of exciting entertainment on board from the glittering Starlight Disco, Palm Beach Casino and the airy La Fenice Theatre.
A sumptuous choice of designer-themed bar lounges provides the perfect atmosphere for every mood. With a wide array of options, grab a beer at the proper English-style pub or sip specialty coffee at the authentic Italian café serving freshly-baked pastries and real Italian espresso drinks at all hours.
Kids love the Kids Club and teens enjoy jamming out at the Teen's Club, which is conveniently next to the Star Galaxy Video Games Arcade.
There are four gourmet restaurants on this enchanting ship, the Marco Polo, La Pergola, and La Brasserie, plus the Girasole al fresco restaurant. Each is distinguished by very different lines, styles, and cuisines – from light snacks to elegant banquets – but all share the same Mediterranean passion for fine dining. Prepare to be amazed by our slow-food delicacies and freshly prepared delights, which are always made using the finest traditional ingredients.
Wrap your entire MSC Armonia cruise experience in a bow and you are left with the perfect gift of harmony.
toggle dots below to see technical details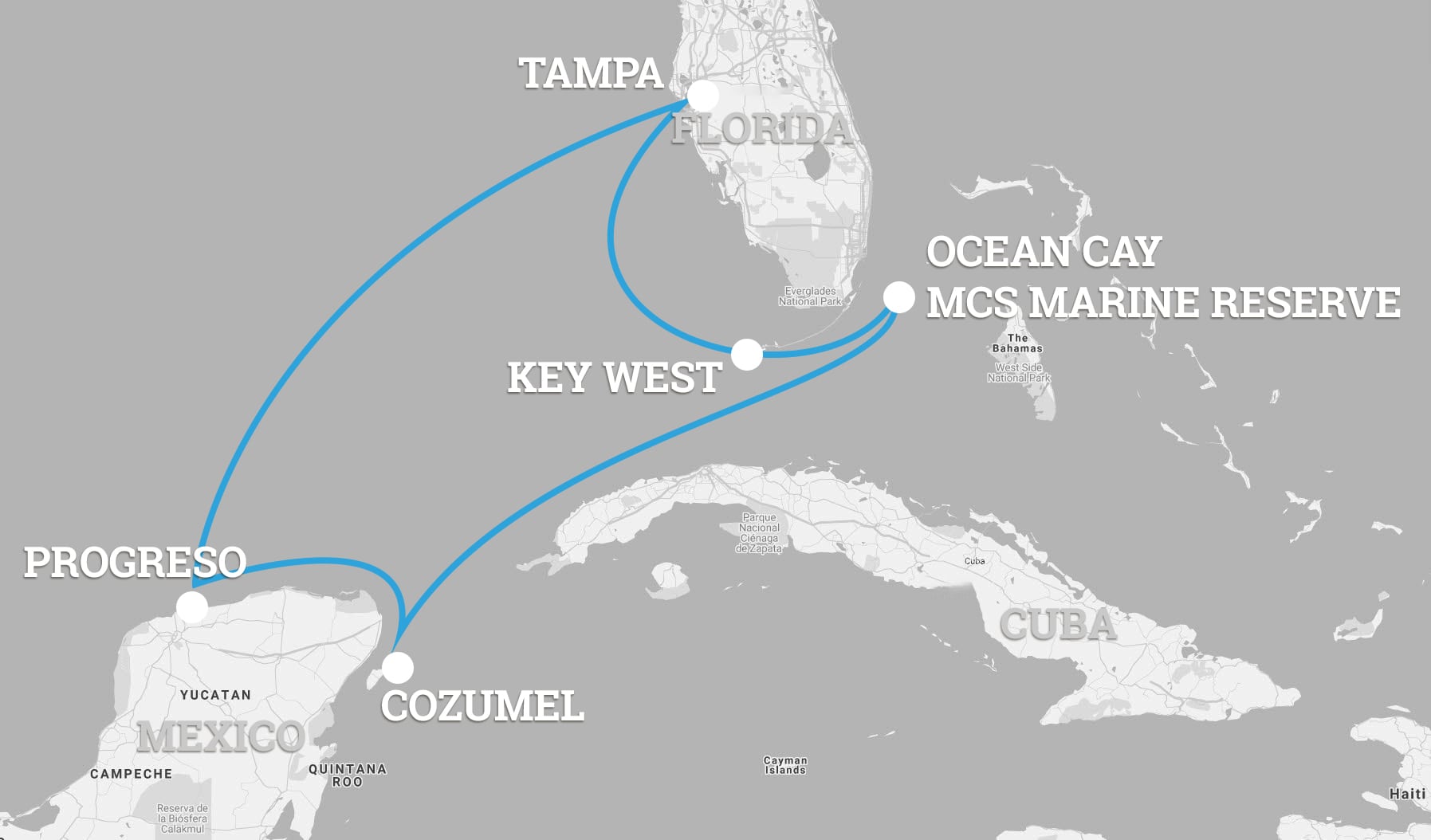 TRAVEL DATES
December 29 2020 – January 05 2021
Prices include
7-night cruise in a shared cabin based in the category of your choice.
All stops and activities as described in the program.
All meals and drinks (Easy Package).
Standard WIFI package (up to 3 GB of data over 2 devices per cabin).
Private one-hour cocktail party for our group on sail day.
Prices do not include
Airfare to the port.
Travel insurance.
On board gratuities ($12.50/person/day).
This tour will not be hosted by an Anywhere Adventures group leader
Day 1:
Dec 29, 2020
PORT:
Tampa, United States
DEPARTURE:
4:00 PM
Tampa, United States
History and Tourist Attractions
Book your cruise on MSC Armonia and be one of the first to sail with us from Tampa, Florida. Located on Florida's growing Gulf Coast yet close to the heart of the state, Tampa is known for its tourist attractions, rich Cuban culture, and cuisine, and vibrant city districts.
Before you embark on your MSC Cruise, discover authentic history. Learn and discover Florida's past and personalities at the Tampa Bay History Center. With three floors of history, there's so much to learn! Visit Ybor City, once known as the "Cigar Capital of the World," which was once home to 200 factories and 12,000 cigar makers. Take a bite out of history too! Tampa's historic Columbia Restaurant is the oldest restaurant in the state of Florida. The landmark restaurant opened in 1905 and offers award-winning Spanish/Cuban cuisine.
Looking for adventure before your cruise? Tampa offers various attractions for the whole family. From theme parks to animal encounters and water activities, you will be able to find something for all ages.
Day 2:
Dec 30, 2020
PORT:
Key West, United States
ARRIVAL:
12:00 PM
DEPARTURE:
7:00 PM
Key West, United States
Welcome to paradise, welcome to Key West
If viewed from afar, Key West seems to float amid a large expanse of sky and sea.
An MSC Cruise will take you right to the southernmost point of the United States, in the Sunshine State, a land of sun-seekers and wild beaches. About 150 km from Cuba, an MSC cruise in the Caribbean and the Antilles is an opportunity to admire the crystal clear waters surrounding Key West, a strip of land just a few kilometers from Miami. The Spaniards nicknamed it "Island of Bones" because here the indigenous people buried their deceased love ones. Connected to the mainland by bridges, Key West is literally a paradise that offers a breathtaking panorama and stages an ancient culture and history. Enjoy the sunset at Mallory Square and get lost in Duval street, one of the liveliest streets of the city, with shops, clubs, and restaurants, and you won't ever want to leave. It is no coincidence that the likes of Harry S. Truman, Tennessee Williams, and Ernest Hemingway decided to reside here.
Don't miss the chance to visit the residence of Hemingway himself: An MSC excursion will take you inside the villa, now a museum, where the writer lived for about ten years. A dive into his life: the paintings, the typewriter, the kitchen and every corner that the writer shared with his second wife Pauline Pfeiffer. During his stay in Key West, Hemingway wrote his novel The Old Man and the Sea, winner of a Pulitzer Prize and the Nobel Prize.
When in Key West, a visit to the sea is a must. With an MSC excursion, it is possible to see its depths, from the comfort of a glass-bottomed boat, built to admire the different varieties of colorful fish that populate the Atlantic Ocean.
Day 3:
Dec 31, 2020
PORT:
Ocean Cay MSC Marine Reserve, Bahamas
ARRIVAL:
7:00 AM
DEPARTURE:
9:00 PM
Ocean Cay MSC Marine Reserve, Bahamas
Ocean Cay, a Unique Island
Discover our new and exclusive Bahamian destination: Ocean Cay MSC Marine Reserve.
Here you can spend a one-of-a-kind experience on an authentic Caribbean Marine Reserve, while connecting with the natural world, feeling the warmth of the Bahamian spirit and immersing in an eco-friendly environment. On Ocean Cay, you can enjoy a relaxing massage in a cabana, discover the beauty of the sea and explore the area with dedicated excursions.
Day 4:
Jan 01, 2021
PORT:
At Sea
Day 5:
Jan 02, 2021
PORT:
Cozumel, Mexico
ARRIVAL:
8:00 AM
DEPARTURE:
4:00 PM
Cozumel, Mexico
The land of the swallows
A forty-kilometer-long island directly off the coast from Playa del Carmen, Isla Cozumel is a renowned cruise-ship call: nearly every day, up to ten cruise ships dock at one of the island's three dedicated piers, all just south of the only town, San Miguel.
A holiday to Mexico with MSC Cruises will present you with restaurants, souvenir shops, and jewelry stores, all along the malecón (Av Rafael Melgar) in downtown San Miguel.
If you fancy a museum, the attractive Museo de la Isla de Cozumel has small displays of the flora, fauna and marine life of the island, as well as a good collection of Maya artifacts and old photos.
If you're not a diver, there's a certain appeal in wandering the relaxed inland blocks of San Miguel, away from the piers, spotting Maya ruins and birds (the Maya called the island cuzamil – "land of the swallows") in the dense forests and being the only person on the windswept eastern beaches.
Midway across the island, San Gervasio is the only excavated Maya site on Cozumel. With several small temples connected by sacbeob, or long white roads, it was one of the many independent city-states that survived the fall of Chichén Itzá, flourishing between 1200 AD and 1650 AD. As part of a larger nature reserve, the site is worth a visit for the numerous birds and butterflies you can spot early in the morning or late in the day.
Day 6:
Jan 03, 2021
PORT:
Progreso, Mexico
ARRIVAL:
10:00 AM
DEPARTURE:
6:00 PM
Progreso, Mexico
Mayan architecture along stunning beaches
Without a doubt, Progreso is a city that can satisfy your desire for the beach. Docking with your MSC cruise at the Caribbean and the Antilles, you will see a long and spacious coast, surrounded by the longest pier in Mexico, 4 miles, where you can find peace in a relaxed atmosphere.
Built in the nineteenth century as a seaport of Mérida, Progreso is located in the north-central part of Yucatàn overlooking the Gulf of Mexico. It is purely a maritime city and a very important industrial centre, around which, only a short distance away, there are numerous archaeological sites dating back to the Mayan culture.
To explore this city's history, an MSC excursion will take you to Chichén-Itzà, an important Mayan archaeological site which is also a UNESCO World Heritage Site. The site includes numerous buildings; what catches the most attention is the temple of Kukulkan, a stepped pyramid from the pre-Columbian era with stairways running along the four sides. The Temple of the Warriors is also very stunning; it consists of a large stepped pyramid with rows of carved columns, depicting warriors on the front and sides. Chichén-Itzà is characterized by the seven ball game fields. In particular the biggest one is adorned by bas-reliefs.
Day 7:
Jan 04, 2021
PORT:
At sea
Day 8:
Jan 05, 2021
PORT:
Tampa, United States
ARRIVAL:
7:00 AM