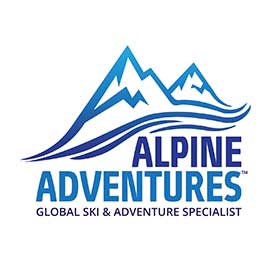 St Moritz is a renowned resort for both its runs and its aprés ski life.
Great accommodation is important, but there is much more to designing a perfect holiday. At Alpine Adventures, we emphasize the importance of relationships and personalized experience. Alpine Adventures will help you define your individual travel needs so you can relax and feel confident that real experts are taking care of your travel arrangements.
Here is why we recommend St. Moritz as your next ski destination:
Nothing says winter like a picture-perfect Swiss Alpine village or ski resort. Ski or snowboard all day, dine and sun bake on the decks of panoramic restaurants located a mile high, relax by the fire sipping Glühwein, maybe have a dip in the hot tub or party into the night and dish out those Francs for schnapps.
Situated in the middle of the Upper Engadine, it covers four ski areas – Corviglia, Margus, Corvatsch, and Diavolezza/Lagalp with one ski pass. With over 218 miles of snow-covered runs at altitudes from 5,600 to 9,900 feet, take in the panoramic view of surrounding mountains, crystal clear lakes while brushing up on your downhill style.
Member Benefit exclusive to Wheels Up In addition to the Member benefits and exclusive packages that are being secured by Alpine Adventures, Alpine Adventures will provide Wheels Up Members an additional booking incentive of $250 USD credit for every $5,000 USD in total spend booked.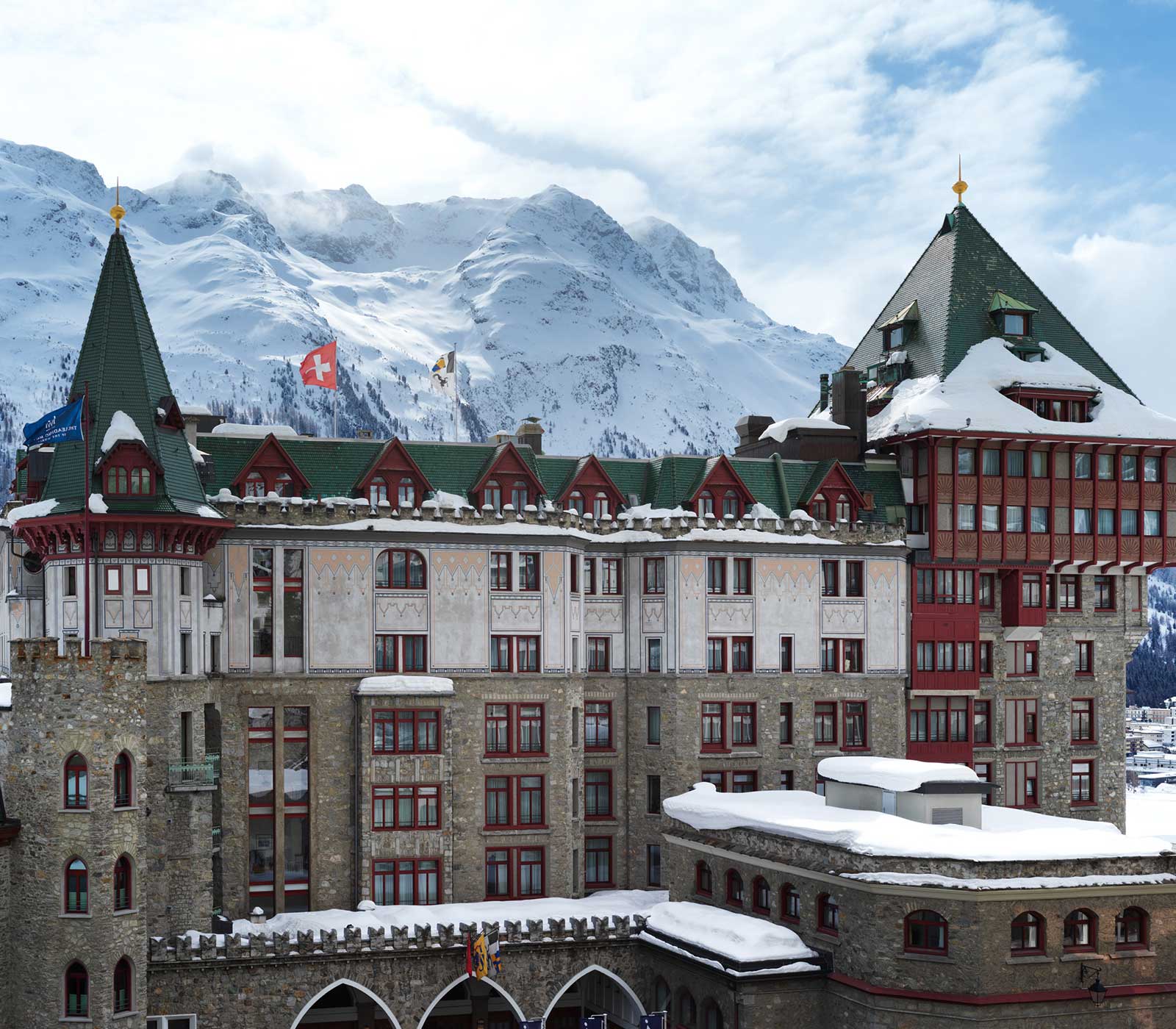 Badrutt's Palace
The "Grande Dame" of Swiss hotels
Set in the breathtaking natural surroundings of the Swiss Alps and embedded in more than a century of history, the "Grande Dame" of Swiss hotels is home to royalty, stars and sport lovers who value quality. Lake St. Moritz, surrounded by picturesque alpine peaks and the shimmering Engadin light, is the ideal background for a destination that abounds with traditional hospitality and discrete service. Badrutt's Palace Hotel is renowned for its exquisite luxury, first class service and limitless indulgence – a gem amongst world-class hotels which is constantly changing but still preserves its historical inheritance. It has been an icon of hospitality since its opening in 1896 and the guests' high expectations are the yardstick for innovation and change. It is here where sophistication, lifestyle, high altitude and the champagne-climate meet the genuine St. Moritz flair bursting with exclusivity and style.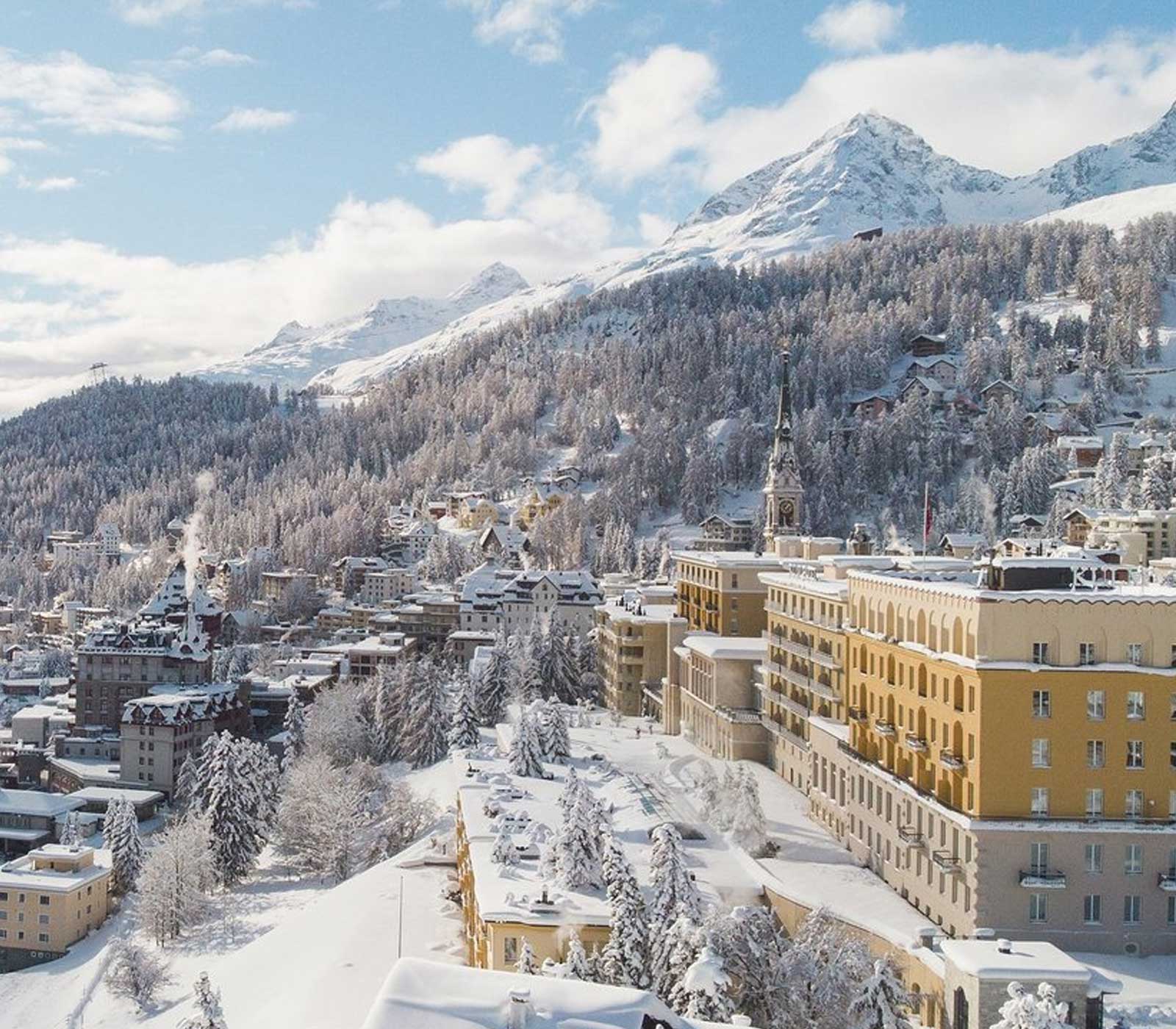 Kulm Hotel St. Moritz
Characterized not only by style but also by originality.
The renowned Kulm Hotel St. Moritz is not just like any luxury hotel. In 1856, when the Kulm Hotel St. Moritz opened its doors for the first time, its founder, Johannes Badrutt, initiated a tradition that is very much alive today: to provide each of our guests, young or old, with a cherished and unforgettable memory. And Badrutt became very successful: It was here in St. Moritz where winter tourism was born in 1864. It was here at the Kulm Hotel where the first electric arc light in Switzerland was lit. It was here in St. Moritz where in 1928 and 1948 the Winter Olympic Games were officially opened. The distinguishing mark of the decorative art of our building is its combination of late 19th century elegance and local, Engadine elements. A 164-room hotel of this stature wouldn't be complete without a Presidential suite and a selection of Luxury and Junior suites. Every room faces our impressive mountainscape.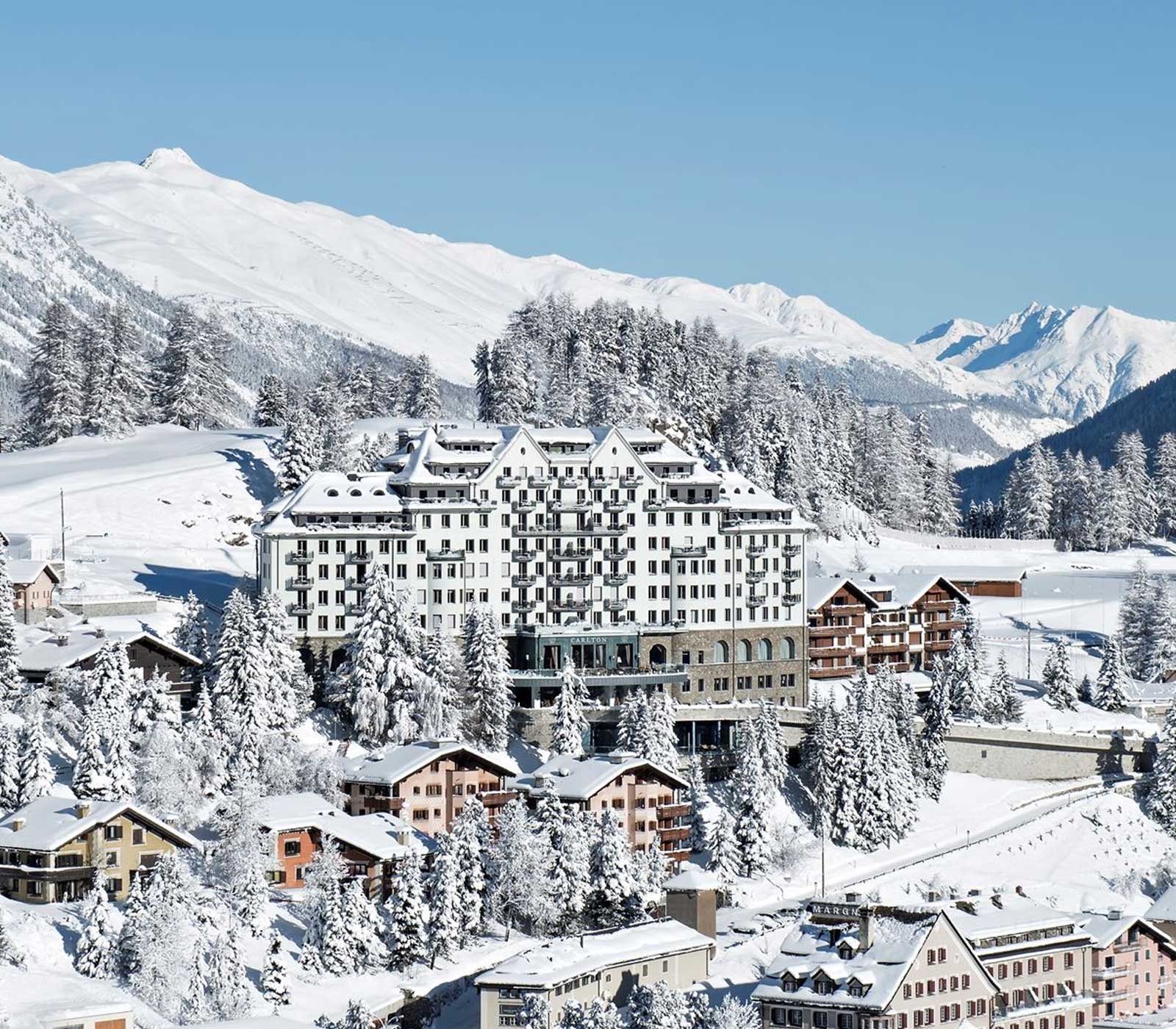 Carlton Hotel St. Moritz
Perfect choice for international sophisticated travelers.
The Carlton Hotel is all-suite St. Moritz property that opened in 1913, and has emerged from a multi-million dollar renovation that redefines the concept of luxury. Skiers are drawn to St. Moritz for its beauty, and its variety of social, sports and cultural events make it a true holiday choice. Accommodations were created by interior designer Carlo Rampazzi and face St. Mortiz Lake and the Swiss Alps. With a 1,200-square-meter spa and many beauty and wellness treatments, the hotel is the perfect choice for international sophisticated travelers. Ski rental shop onsite, a ski school on property, personal butler service, a Kids & Teens Club and fine dining at the Restaurant Romanoff. Indulge into the three-Michelin star cuisine of Enrico & Roberto Cerea at the restaurant "Da Vittorio – St. Moritz". Private shuttle service to the ski lifts.

GLACIER EXPRESS EXCELLENCE CLASS
A panoramic trip through the Swiss Alps.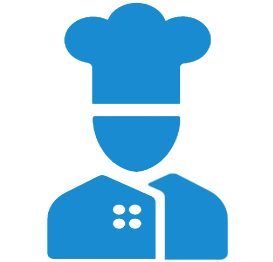 ST. MORITZ GOURMET FESTIVAL
"SWISS MADE"

SNOW POLO ST. MORITZ WORLD FESTIVAL
High-class polo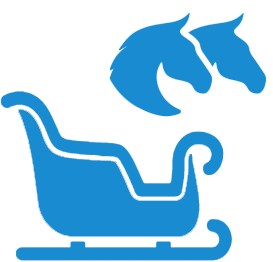 HORSE-DRAWN SLEIGH RIDE
Gentle neighs and the muffled sound of hooves.

HELICOPTER RIDE OVER ST. MORITZ AND ENGADINE VALLEY
A unique perspective of the magical Engadine mountain world.
GLACIER EXPRESS EXCELLENCE CLASS
The Excellence Class is bookable for the stretch St. Moritz – Zermatt or Zermatt – St. Moritz. The new Excellence Class sets standards that are as high as the mountain peaks along the legendary route.
A rail journey through the Swiss Alps has never been so luxurious. In the Excellence Class we guarantee you a window seat and a superb panoramic view while travelling across 291 bridges and through 91 tunnels between St. Moritz and Zermatt.
Along the way you will be served a refined regional 5-course menu with accompanying wines. For an aperitif, some delicious cocktail or to exchange with fellow travelers the Glacier Bar is the perfect place to visit. Thanks to the compass on the ceiling none of the many turns will be missed.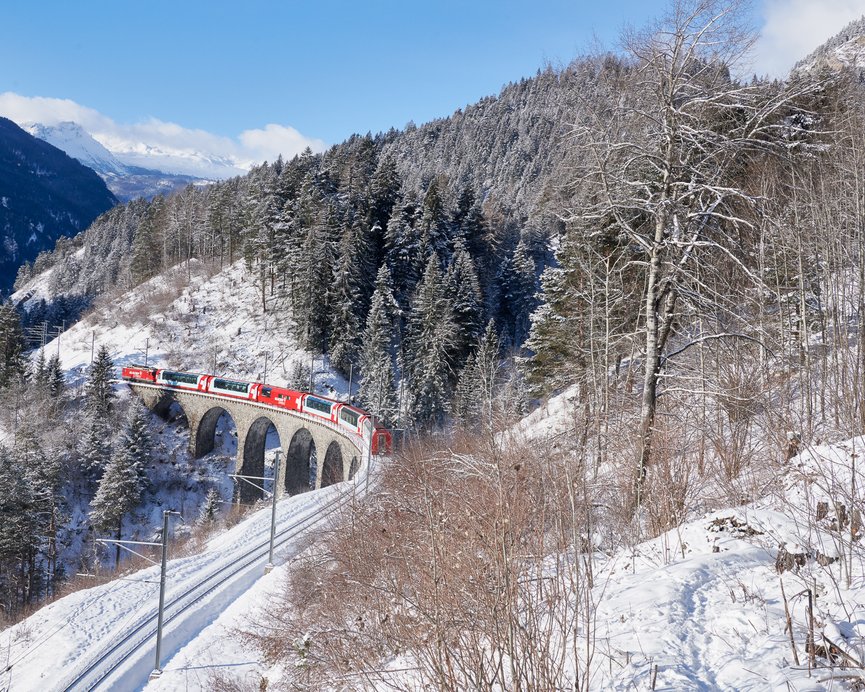 ST. MORITZ GOURMET FESTIVAL
For more than a quarter of a century, always at the beginning of each year, the St. Moritz Gourmet Festival has been bringing together selected stars and icons from kitchens all around the world in the Upper Engadine. For nine days electrifying top guest chefs, together with the distinguished executive chefs of the partner hotels, offer culinary highlights from the current top cuisines around the world.
The St. Moritz Gourmet Festival 2022 will be held under the motto "SWISS MADE" from 28th January to 5th February. At the 2022 Festival, the focus of attention will be on the wealth and culinary diversity of Swiss gastronomy. Only top Swiss chefs will – alongside the high-class executive chefs from the festival's partner hotels – enthral festival guests with their cookery skills and surprise them with delicacies from the culinary paradise that is Switzerland.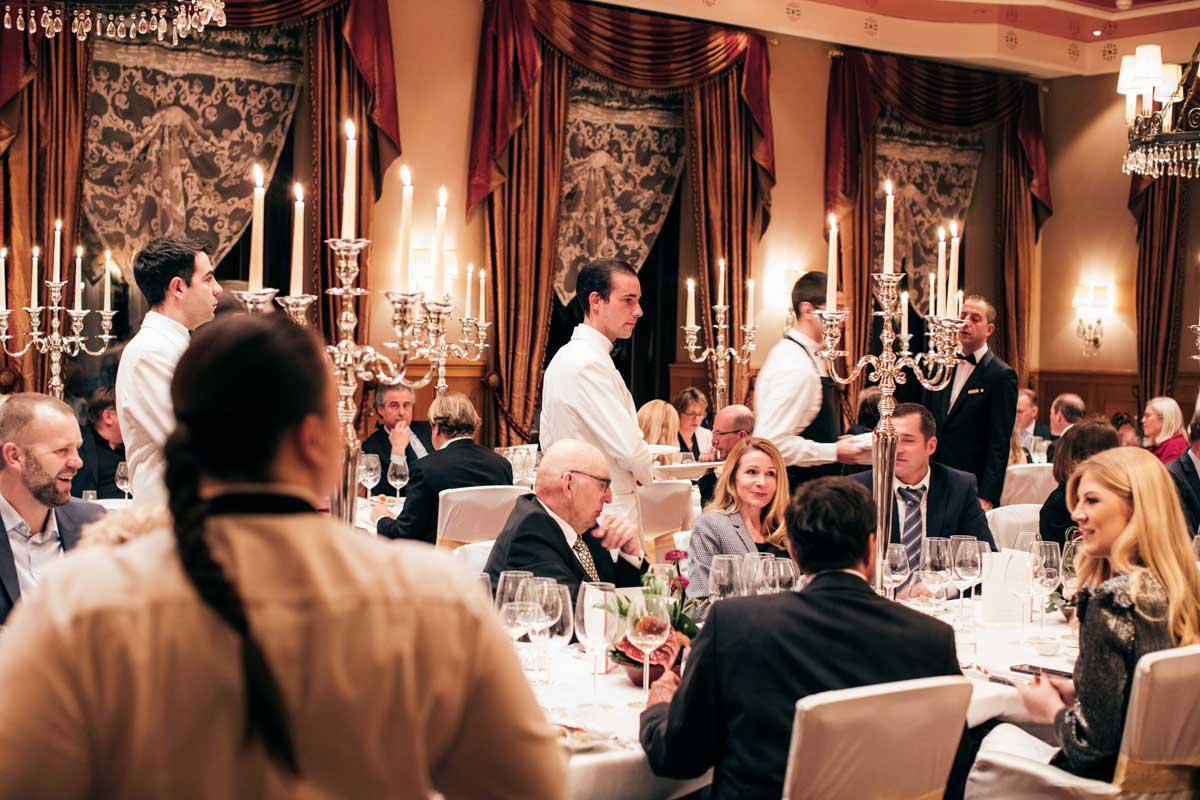 SNOW POLO ST. MORITZ WORLD FESTIVAL
Every last weekend in January, St. Moritz turns into the world capital of polo: Since 1985, when snow polo had its world premiere here, teams from around the world compete for the Snow Polo World Cup St. Moritz on the frozen lake of St. Moritz.
The Snow Polo World Cup St. Moritz is the world's only high-goal tournament on snow. The three days of the tournament stand for high-class polo played against the magnificent backdrop of the snow-capped mountains of the Engadin Valley and social events both on the lake and in the first-class hotels in St. Moritz.
We are looking forward to welcoming polo friends and other guests to the Snow Polo World Cup 202, from January 28 to 30!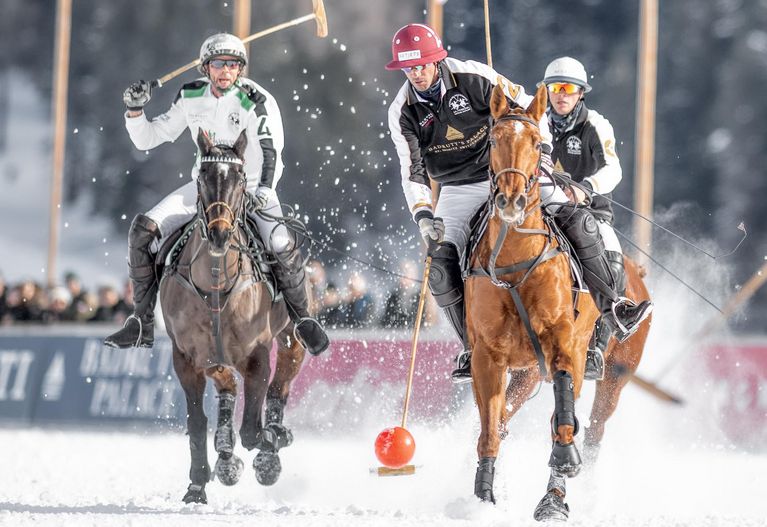 HORSE-DRAWN SLEIGH RIDE
Gentle neighs and the muffled sound of hooves on compact snow hang in the winter air. A large sleigh pulled by two sturdy horses glides along almost silently. The man holding the reins is Werner "Wohli" Wohlwend: coachman, businessman and horse lover. He has more than 50 horses on his farm, and he knows them all by name. The impressive stable offers a wide variety of adventures to guests in the valley, and ensures that the horse omnibus into the Val Roseg runs punctually to timetable, in summer and winter alike.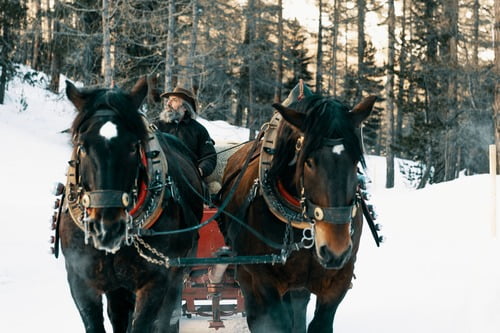 HELICOPTER RIDE OVER ST. MORITZ AND ENGADINE VALLEY
Snow-capped mountain peaks, stunning glaciers and rugged cliffs – A bird's-eye view provides a unique perspective of the magical Engadine mountain world. Viewing this region from the air is probably the most breathtaking, awe-inspiring activity you can experience in this region. The comprehensive range of HeliBernina tourist flights makes it all possible.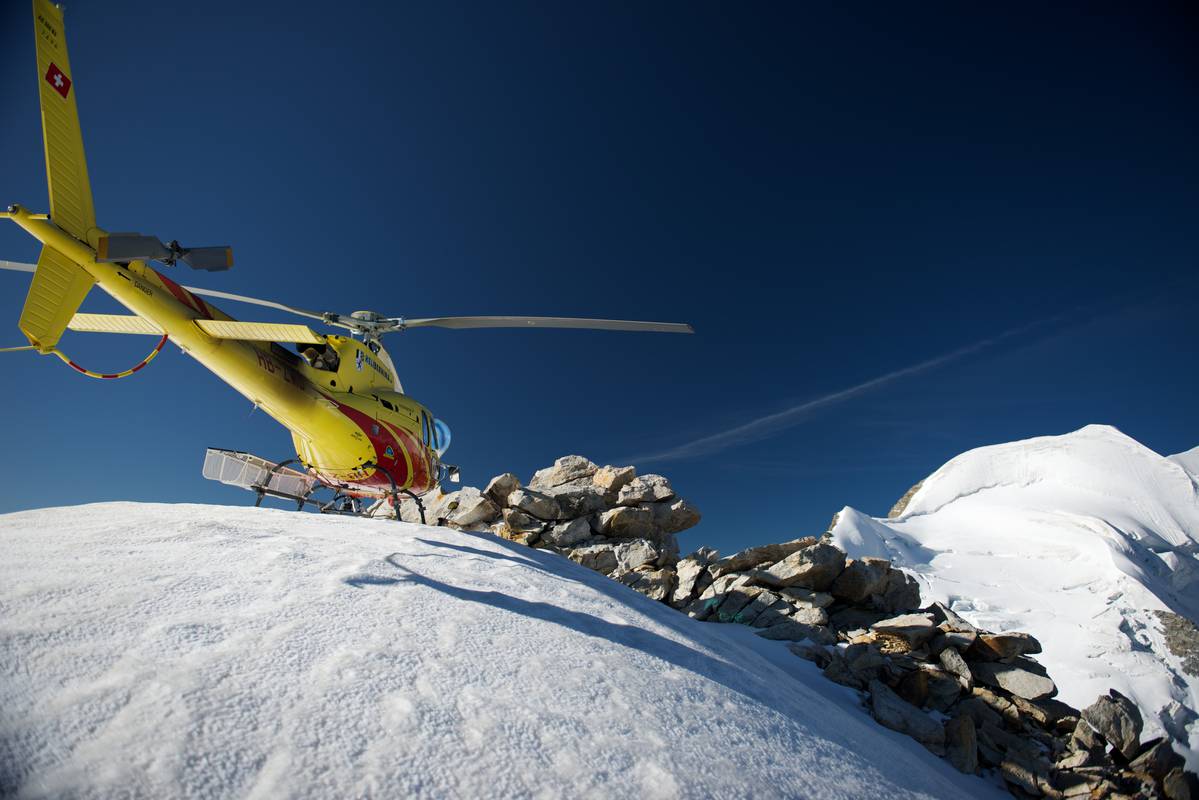 Team Alpine understands how precious your vacation time is and we are committed to creating for you the most personalized, knowledgeable, and efficient travel experience you'll ever have.
Click on the button below, choose your trip preferences, and request a quote for the trip. One of our ski travel specialists will find the best options for you.  
MOUNTAIN STATS
Top lift: 3303m

Vertical drop: 1503m

Bottom lift: 1750m

Ride Area: 350km

Total Pistes: 88

Longest Piste: 8km

Easy: 20%

Intermediate: 70%

Advanced: 10%

On mountain restaurants: 38

Total lifts: 56