epic
Spring Skiing in the Mountains
The season that has it all
Is it too early to start thinking about spring skiing? I think that with parts of the country plunged into the frigid depths of winter, now is actually the perfect time to daydream about the mountains in one of the most underrated seasons. Spring skiing is a not so well-kept secret among avid skiers and riders.
The days start to lengthen, leading to extended operating hours for the lifts and more time to make those extra turns. The weather has a tendency to waver between bluebird days and the skies opening up and dropping copious amounts of snow. You can have one day where you'll see people skiing in t-shirts working on their goggle tans, and the next they'll be getting fresh tracks in waist deep powder.
Spring in the mountains is about what happens off the slopes as much as on.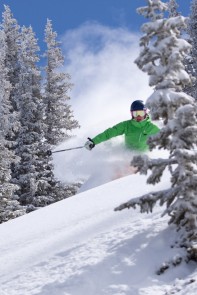 There's nothing better than getting face shots on a powder day, except maybe by wrapping it up with après ski outdoors, basking in the sun and recapping your runs with friends. With the warmer weather also comes spring concerts, and catching a free show with the mountains in the background is a definite must-do this time of year. If you plan right, you can make it to the resort when they have pond skimming, when the adventurous don their best onesie or most creative costume, and attempt to ski or ride across a pond. It's not always successful, but it is always entertaining.
Now, I have to ask…is it really too early to think about spring skiing?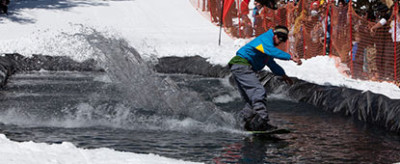 The word 'epic' gets thrown around a lot these days. It gets attached to ordinary, day-to-day things, which is remarkably far from epic. My use of epic is generally mountain related, although I still probably say it a lot more than I should.
Epic was the day I made it to Vail right before the pass closed because of the weather. This same storm dropped a foot of powder that I got to ski for a couple of hours before the pass opened and it got tracked out.
It was epic in Steamboat after they had gone a couple of weeks with very little new snow, only to have three feet come down in one night.
I've actually lost count of how many epic days I had when living in Utah; I got to the point where I required at least six inches of fresh snow to motivate me out of bed in the morning.
We offer a couple of days skiing with instructors to familiarize yourself with the mountain, and then if you want to explore on your own, go for it! Our groups are led by Leo Demelbauer, PSIA level 3 ski instructor and Alpine team member. He knows the mountains like the back of his hand, and his love of skiing is infectious.
I don't want to discount non-powder days…some of my most memorable times have been with my Alpine family skiing in the sun, making some leisurely runs before heading to après or taking a wander through the village.
Skiing Val d'Isere, before finishing up at La Folie Douce, surrounded by hundreds of revelers–many of whom were dressed in full costume –is one I will not forget anytime soon. Everyone dancing in their ski boots at Mooserwirt in St Anton, while watching people attempt to ski the run to the bottom was yet another amazing day.
When it comes down to it, whether you're skiing freshies right after a storm, groomers on a bluebird day, or even just taking a couple of laps with friends and heading to après and absorbing the mountain atmosphere, shouldn't any time you get to spend on the mountain be considered epic?
The Best Days on the Mountain Have Yet to Come