skiing in t-shirt
Spring Skiing in the Mountains
The season that has it all
Is it too early to start thinking about spring skiing? I think that with parts of the country plunged into the frigid depths of winter, now is actually the perfect time to daydream about the mountains in one of the most underrated seasons. Spring skiing is a not so well-kept secret among avid skiers and riders.
The days start to lengthen, leading to extended operating hours for the lifts and more time to make those extra turns. The weather has a tendency to waver between bluebird days and the skies opening up and dropping copious amounts of snow. You can have one day where you'll see people skiing in t-shirts working on their goggle tans, and the next they'll be getting fresh tracks in waist deep powder.
Spring in the mountains is about what happens off the slopes as much as on.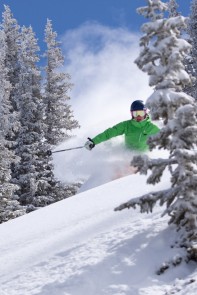 There's nothing better than getting face shots on a powder day, except maybe by wrapping it up with après ski outdoors, basking in the sun and recapping your runs with friends. With the warmer weather also comes spring concerts, and catching a free show with the mountains in the background is a definite must-do this time of year. If you plan right, you can make it to the resort when they have pond skimming, when the adventurous don their best onesie or most creative costume, and attempt to ski or ride across a pond. It's not always successful, but it is always entertaining.
Now, I have to ask…is it really too early to think about spring skiing?