Life aboard Star Clipper is blissfully relaxed, much like traveling on a private yacht with expansive teak decks and two swimming pools. All meals are finely prepared and included with open seating in her elegantly appointed dining room. Gather at the Tropical Bar and Piano Bar or chill in the Edwardian-style library. Voyage with like-minded travelers where the traditions of the past are happily married to the comforts and amenities of the present day.
Enjoy unique sailing activities onboard such as climbing the mid-ship mast, hanging out in the bowsprit netting at the bow of the ship, or helping to set the sails. Choose to partake or simply relax and enjoy.
Travel Dates
September 28 – October 4, 2024 (7 nights)
INCLUDED:
Meals (full board – breakfast, lunch, dinner, snacks)

Entertainment
SPECIAL FOR OUR GROUP:
Welcome Party

$150 per person on board credit

Prepaid gratuities

Farewell cocktail
NOT INCLUDED:
Flights

Port Charges

Alcoholic beverages

Additional excursions
CRUISE PRICE
Only $400 or $800 Per Person Deposit. Hurry, this limited-time offer expires soon!
OWNERS CABIN – CLIPPER DECK – $3,780 per person
Deluxe outside cabin (no private verandah), Double bed, Separate sitting area, Minibar, Marble bathroom with a whirlpool, Room service
Average Cabin Size: 237 ft²
CATEGORY 1 – MAIN & SUN DECK $2,960 per person
Deluxe deck cabin, Twin converted to double, marble bathroom with a whirlpool, minibar, cabin doors open onto deck
Average Cabin Size: 156 ft²
CATEGORY 2 – CLIPPER DECK $2,660 per person
Large outside cabin, Twin/double/triple beds, marble, Bathroom with shower
Average cabin dimensions – 129 ft²
CATEGORY 3 – CLIPPER & COMMODORE DECK $2,520 per person
Bathroom with shower, Twin, double, or triple beds
Average Cabin Size: 118 ft²
CATEGORY 4 – COMMODORE DECK $2,400 per person
Outside cabin, Twin/double/triple beds, Marble bathroom with shower
Average Cabin Size: 118 ft²
CATEGORY 5 – CLIPPER & COMMODORE DECK $2,110 per person
Outside cabin, Raised double bed, twin/double/triple beds, Marble bathroom with shower
Average Cabin Size: 118 ft²
CATEGORY 6 – COMMODORE DECK $1,930 per person
Inside cabin, Upper/lower berths, Marble bathroom with shower.
Average Cabin Size: 86 ft²
THIRD SHARE: $1,050
PORT CHARGES: $270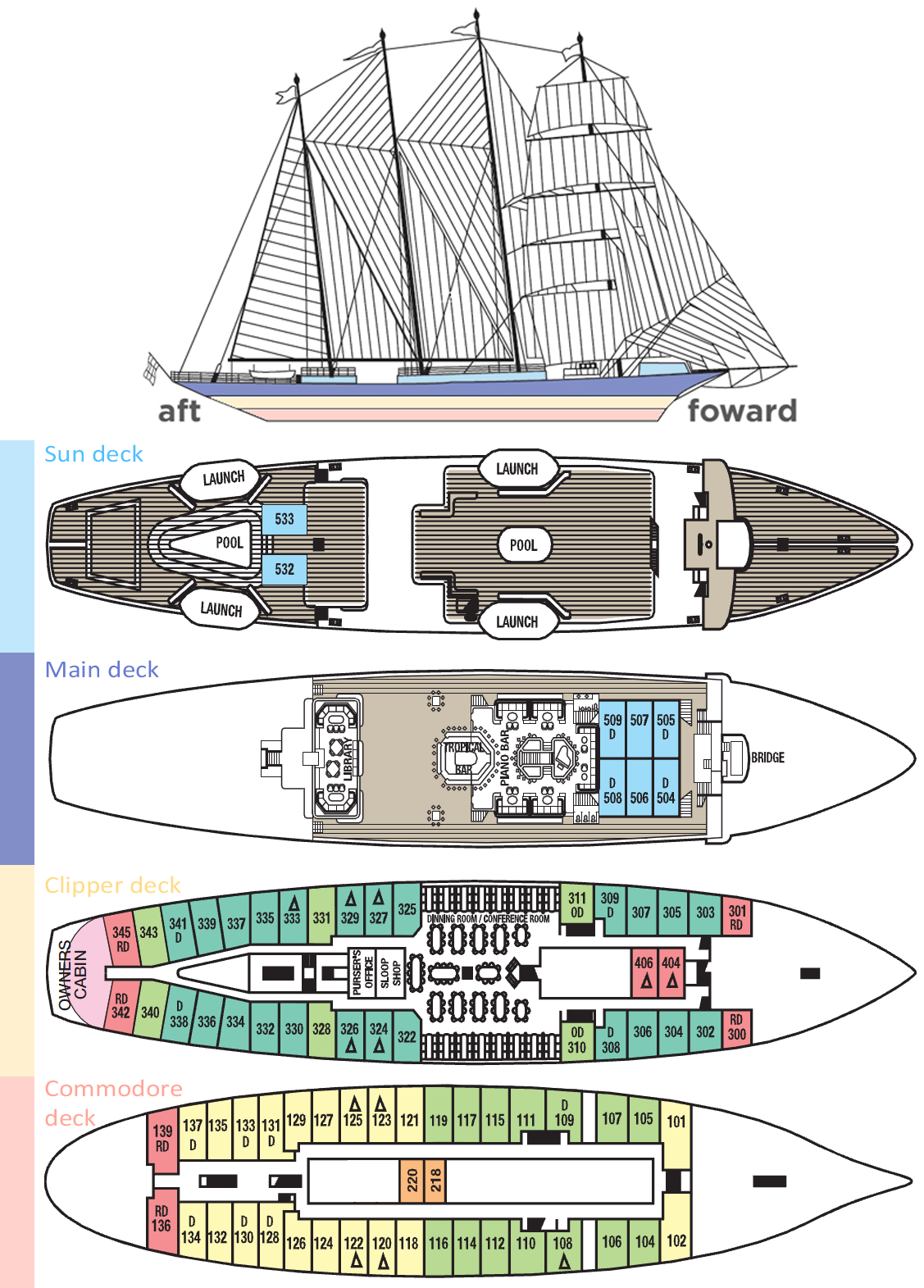 Star Clipper is a true Clipper Ship reflecting its proud heritage in every inch of its polished brass and gleaming charm. Star Clipper is a modern small ship in every way, created for adventure-loving passengers looking for the tradition and romance of the legendary era of sailing ships but with the comforts and amenities of the present day. It is 379 feet long and carries 166 guests in pampered comfort, over 36,000 square feet of sails. Sixteen sails billowing in the wind.
NAUTICAL HERITAGE
Star Clipper offers spacious accommodations and expansive teak decks with ample space for walking and relaxation. In fact, you'll find that this ship offers more outdoor space per passenger than most conventional cruise ships.
The decor of Star Clipper is reminiscent of the grand age of sailing with a modern touch. Antique prints and paintings of famous sailing ships appeal to the eye, while polished decks and gleaming mahogany rails are richly reminiscent of Star Clippers' proud nautical heritage.
MODERN AMENITIES
Star Clipper features open-seating dining in an elegantly appointed dining room, delightful indoor and outdoor Tropical and Piano bars, and an Edwardian-style library where a Belle Époque fireplace glows with a warmth that reflects the friendliness and enthusiasm of Star Clippers' hospitable officers and crew.
Please fill out the form to sign up.
Itinerary
Saturday: Piraeus (Athens), Greece
Sunday: At Sea
Monday: Rhodes, Greece
Tuesday: Bodrum, Turkey
Wednesday: Dalyan River, Turkey
Thursday: Santorini, Greece
Friday: Hydra, Greece
Saturday: Piraeus (Athens), Greece
Oh, the Places You'll Go!
Athens
Athens is the historical capital of Europe, and the birthplace of democracy, arts, science and philosophy of western civilization. Home of Plato, Socrates, Pericles, Euripides, Sophocles, Aeschylus. Athens is one of the world's oldest cities. It's recorded history spanning around 3.400 years and it is being inhabited since the 11th millennium B.C. E. Today, under the shadow of Parthenon, the contemporary urban scenery of the sprawling city reflects its exciting history, and its multi- cultural modern personality.
Rhodes
Rhodes has a long and impressive history; it's a place where the strong medieval aspect blends with the traditional Greek one. It is also an island with great natural beauty: the lovely beaches face the pine woods on the mountainsides; the mountain villages overlook the seaside towns; and the archaeological sites, the medieval monuments, and the cosmopolitan resorts arranged in the traditional style all conspire to make the popularity of this destination so hard to resist, even to a demanding traveler.
Bodrum
Turkey's top resort, Bodrum, is more than the town of that name. The Bodrum Peninsula, extending west into the Aegean and bordering the Mediterranean, actually has a dozen resort towns and villages along its shores, of which famous Bodrum is but one. Each has its own beaches, hotels and other pleasures. Although Bodrum was Turkey's original south Aegean seaside resort, and has the richest history on the peninsula with its crusader castle and Mausoleum, other villages—now grown to towns—are becoming almost as well-known.
The Dalyan
The Dalyan is part of the Turkish Riviera, some of the most beautiful coastal territory in the Mediterranean. Most famous for the breeding ground of the endangered loggerhead sea turtle at Itzuzu Beach, the shores of the Dalyan River provide access to several of Turkey's historical sites. Near the fishing town of Dalyan visitors may find the ancient Carian city of Kaunos, while travelers on the river, navigating through the dense reeds, may view the Lycian tombs, carved directly into the cliffs over the river.
Santorini
Santorini, known since ancient times as Thira, is one of the most famous islands in the world. The fact that you can sit in front of the caldera, enjoy local dishes, a drink or a coffee while gazing at the remarkable beauty of an active volcano is priceless! The island is actually a group of islands consisting of Thira, Thirassia, Aspronissi, Palea and Nea Kameni in the southernmost part of the Cyclades.
Hydra
Hydra is a popular sailing destination. A rich naval tradition and a cosmopolitan island ambience are the defining characteristics of Hydra – a popular island in the Argosaronic Gulf – which attracts every year many personalities and jet-setters from Greece and abroad. This was the favourite destination and place of residence of painter Nikos Hatzikyriakos-Ghika, Leonard Cohen, and Henry Miller. It is also the birthplace of painter Panagiotis Tetsis, and of many other famous artists, writers etc. The island's great beauty was appreciated also by celebrities such as Maria Callas, Pablo Picasso, and Sophia Loren.