Mtn Scoop
It is a redesigned world of travel. The internationally recognized winter and summer mountain adventure company, Alpine Adventures, has openings to add new members to our global family of travel consultants.
Alpine Adventures is a multi-cultural and multi-lingual enterprise that specializes in ski vacations but also offers customized trips to Africa, guided international city tours in Southeast Asia and Europe, white water rafting in Costa Rica, and summer skiing or winter wine country tours in South America. You must love to travel to work at Alpine Adventures. If exploring the world of ski and beyond is in your DNA, then Alpine Adventures should be your next career move.
Our company is still owned by the original founders, Rick Reichsfeld and Richelle Reichsfeld Blanken, and has been in the travel business for 28 years. We enjoy and support each other as travel consultants whether it is answering phones during travel season or finding adventures together after a session of company training on a beach somewhere. We are looking for the right fit in skills, in experience, in attitude, and in love of travel.
Our wish list for new agents includes:
Someone who is energetic and is willing to commit (this is a solid career)

Experience in travel sales is great, in other types of sales is a plus

Are you good with computer programs and can you learn new ones easily?

Do you enjoy providing efficient responses to phone calls, emails, or chat inquiries?

Can you build and service that perfect and memorable vacation for a variety of customers and destinations?

Do you value meaningful and long-term relationships with your customers and with company partners?

Can you tactfully listen to and mediate customer service issues? (Important!)

Are you organized and goal-and-success oriented?

Do you believe that you communicate well, both verbally and in writing?
These are some of our key standards for new team members. Alpine offers complete training and support for our reservation system, guidelines for our sales and follow-up protocol, our CRS, and our company mission.
Please respond to Rick@alpineadventures.net if this opportunity can be a Win/Win for you and for Alpine Adventures. It is a company job with a family to welcome you.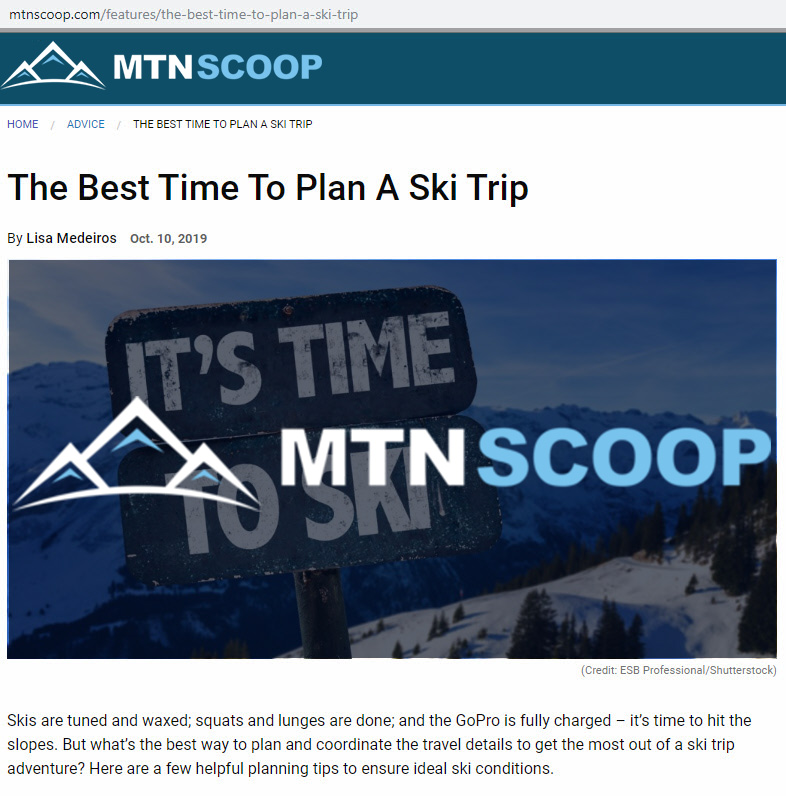 The Best Time To Plan A Ski Trip
By Lisa Medeiros
The week between Christmas and New Year's is always the busiest time of the year to ski, regardless of which mountain you choose. It's certainly a great way to enjoy the holiday season, but you'll need to plan ahead. You should book your ski vacation a year in advance to secure the best accommodations and rates for this time of year, especially if you are planning to fly to your destination. Martin Luther King, Jr. Day weekend in January and Presidents' Day weekend in February are also popular ski travel times. It's best to secure your travel arrangements by late summer, especially if booking at the larger resorts.
If your travel plans fall outside the holiday windows, the best time to book your ski trip is in September or October. "Keep in mind [flights] into small regional airports like Aspen and Vail sell out quickly on Saturday and Sunday," advised Richelle Blanken, owner and vice president of Alpine Adventures, a global travel agency specializing in ski and winter getaways. "Book early or consider midweek arrivals or larger airports like Denver or Salt Lake City."
Booking early isn't only a good idea for lodging and airfare. Reserving your ski rentals in advance ensures the rental company will have the equipment you need in stock and will make your arrival hassle-free. For those skiing with kids, be sure to reserve their spot in daycare or ski school prior to your arrival as space is limited and can book up quickly, especially during prime ski travel times.
Although planning in advance is generally the wise thing to do, booking late does have its advantages. Travelers interested in hitting the slopes towards the end of the season, when the sun is bright and the temperatures are mild, should wait to book until February to take advantage of bluebird rates. Not only can springtime skiers score late-season deals and maybe even a few added perks, but booking late provides the luxury of gauging weather patterns and maybe even benefiting from an end-of-season snowstorm.